Did Carmen Bryan Just Insinuate That Nas May Be Gay?
Carmen Bryan, the mother of Destiny Jones, rapper Nas' daughter, has recently weighed in on the news that he just might be dating famous female rapper Nicki Minaj, this only comes after a photo of the two of them began to swirl the internet.
Just incase you missed it, there were several rumors that the two rappers were dating and after an image of the two of them was posted to their own personal Instagram accounts, people took the information and ran with it.
The image in question was taken at Nas' restaurant, Sweet Chick, in New York City.
He later reposted it the same picture.
The two of them were apparently out to dinner with Statik Selektah and fans had mixed emotions about it all.
Though this isn't really news to many of us because we'd heard about the rumors previously, what is news was the way that the Bryan reacted to the image that has seemed to make it's rounds on every major blog site.
When asked by a fan what she'd thought about the father of her child allegedly hooking up with Minaj, Bryan came out and seemingly insinuated that the 'Illmatic' star was possibly into men.
She said, "I'm relieved I didn't think my baby father still dated women" via Instagram.
After one fan chimed in to defend Nas, following Bryan's suspect comment, she'd fired back by writing, "Like what? I'm use to Nas dating 19-year-old's. I'm actually glad to see him dating a woman."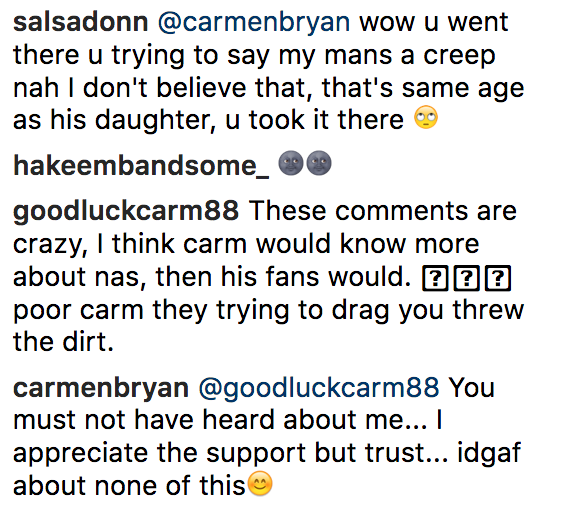 All-in-all, according to Destiny's mom, when it all comes down to anything surrounding her ex, she doesn't care about the rumors, fans or who he may be dating.
"You must not have heard about me," she responded to a second user, who defended her claims. "I appreciate the support but trust… idgaf about none of this."
Nas still has yet to comment on the claims and people are still trying to figure out exactly what Ms. Bryan meant.
Comment your thoughts below and tell us what you're thinking.
Comments
comments
Powered by Facebook Comments
Like This Post On Facebook